DATE:

AUTHOR:

Brendan, Product Marketing Manager
Easily share your desk reservation
DATE:
AUTHOR: Brendan, Product Marketing Manager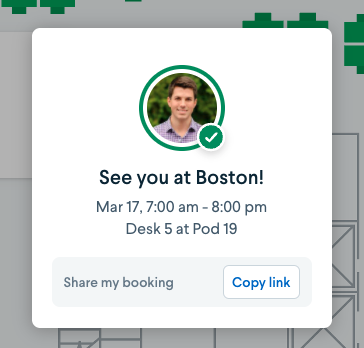 You can now share a link of your desk reservation, making it easier than ever to coordinate a day in the office with a coworker, friend, or team.
Sharing a reservation link is perfect for planning in-office meetings, workshops, sprint planning or other collaborative events.
To give it a try, there is a pop-up after a reservation is made. Copy the link and share in Slack, Teams or other collaboration tools. When clicked, the link will open Robin to the date and reservation on the map.